It seems I've been nominated for awards!
First, my s7 Willow fic "
Closure
" has been nominated for Best Ficlet at the Absence of Light awards.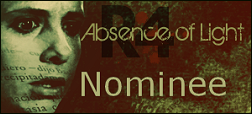 Also my meta entry "
Words of Willow: 'Witch,' Mirrors and Mommy Issues
" has been nominated for best meta at the No Rest for the Wicked Awards.

While I haven't read many of the other nominees in the Ficlet except for

beer_good_foamy
's typically excellent "
Drive It Like You Stole It
" (I tend to keep to my flist), I have read all the other meta entries at the NRFTW awards (listed alphabetically by author so I don't seem to be playing favourites!), by "
Buffy, the Vampire Slayer Buffy the Vampire Slayer
" by

beer_good_foamy
, "
Rules of Engagement: Violence and Hyperreality in the Buffyverse
" by

lostboy_lj
and "
The Mirror Crack'd: Doppelgangers on BtVS, part 1
"

red_satin_doll
and all three are very much worth your time. Thanks very much to whoever nominated me for each!